Commercial property outlook: retail, from despair to where?
Much as COVID-19 impacts the most vulnerable, in a cruel twist of fate drastic measures to contain the pandemic will have serious consequences for the UK's already beleaguered retail sector. Here we examine the fallout and consider what accelerated change could mean for the future of our town centres.
EARLY COSTS OF COVID-19
According to the Office for National Statistics (ONS), the enforced closure of non-essential retail on 23rd March 2020 prompted the sharpest month-on-month fall in retail sales values on record, down 5.7% from February and 6.0% year-on-year. With only the last week of March being in lockdown, April's figures will appear catastrophic.
A number of retailers were tipped into administration as the crisis only started to take hold. This includes household names such as Debenhams, Oasis Warehouse and Laura Ashley, while Cath Kidston announced closure of all 60 of their UK stores. Well-known food and beverage (F&B) operators have also gone into administration during lockdown, including Carluccio's and Chiquito.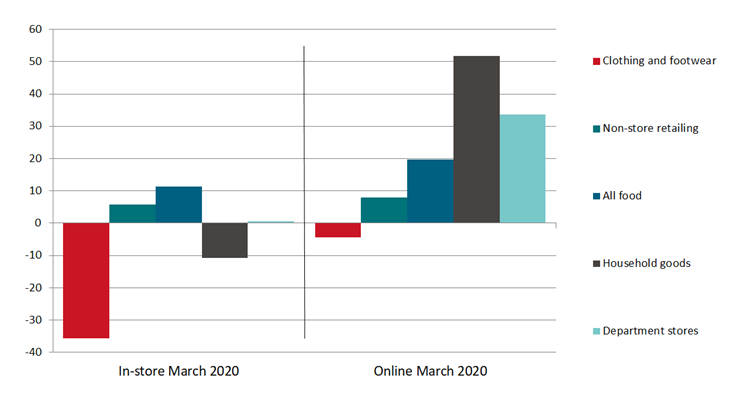 PERMANENT FLIGHT TO ONLINE?
While the supermarkets have funnelled the nation's spend, out of necessity, spending has flowed to online retailers. According to ONS, online sales in March were up 12.5% year-on-year, including a substantial 51.8% growth in sales of household goods. The question is, will some of this increased online consumer behaviour stick after the crisis has passed? It is perhaps too early to tell, but it is reasonable to assume that the crisis will fast-forward projected levels of online spend that were several years away into the near present. Accordingly, this will impact sharply on the need for physical stores.
While there is talk of 'revenge spend' post-lockdown, particularly in F&B, there are concerns that anticipated increases in consumer demand post-lockdown will be dampened by weaker consumer sentiment and higher unemployment.
LIFELINE OR STAY OF EXECUTION?
The lockdown was accompanied by a massive package of government support designed to keep retailers in business and protect jobs. Key measures include a 12-month business rates holiday, cash grants for smaller businesses, allowance to delay rent payments for three months and, most significant of all, a wage subsidy of up to 80% of median salary for furloughed employees.
Yet, unprecedented as these measures are, for many retailers it will simply not be enough and more failures are expected after the pandemic passes. With a flood of retailers requesting rental concessions, only one third of quarterly rents due at the end of March 2020 were paid in full, with Q2 rental collection bound to be much, much worse.
The British Retail Consortium recently issued guidance on social distancing to the UK government for non-food retail stores. But, as talk of easing restrictions is gathering pace, it remains to be seen how the retail sector and consumers will react. Difficulties of trading amid social distancing measures and fears of poor trading levels mean many stores simply may never reopen their doors…