The economics of operating location-based entertainment in corona-time
There are many challenges to reopening location-based entertainment (LBE) during the post-lockdown era regardless of whether it's a family entertainment center (FEC), bowling entertainment center (BEC), amusement/theme park, eatertainment venue, laser tag center, bar-arcade, family fun center or any other type of LBE business. There's the challenge of rehiring/finding, paying and retaining staff; implementing all the Covid-19 safety measures including those needed for social distancing, restricting capacity, disinfecting high-touch surfaces and keeping both staff and customers safe.
However, the greatest challenge that's had little discussion in the entertainment industry is the economics of operating an LBE with all the safety measures and capacity restrictions combined with the reluctance of most of the public to return. In most situations, operating an LBE with restricted capacities, and thus restricted attendance and revenues, is not financially viable. Nor will it be when restrictions are removed, as much of the prior customer base is unlikely to return for the foreseeable future. Many LBEs may not reopen as they've run out of money. Others will open and operate at a loss until they run out of capital and borrowings, not making it to the time when they would recover the attendance and revenues needed to pay their expenses, so they will become insolvent and close their doors.
To illustrate how operating with restricted and/or depressed attendance and revenues is not a financially viable option for LBEs, I analyzed what revenues would be required to breakeven cash-wise, to be able to pay all the bills, for two large chain LBE companies that have publicly available financials, Dave & Buster's and CEC Entertainment, which operates Chuck E. Cheese's and Peter Piper Pizza.
First, here's my analysis of D&B that currently operates 136 eatertainment facilities.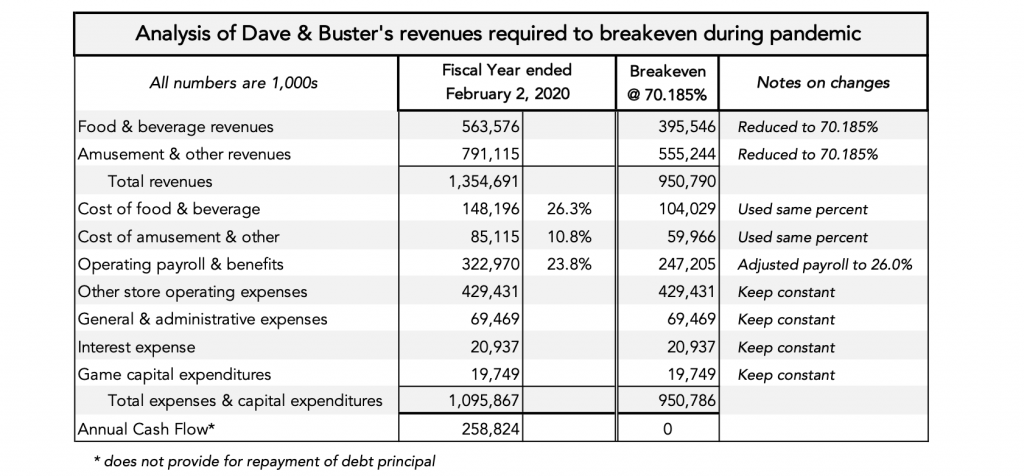 The first column shows their actual results for their fiscal year ending February 2, 2020 (before the coronavirus had any impact on their revenues). It shows cash items but excludes capital expenditures for new stores on the assumption D&B would cease any new store development until the pandemic was over. Also excluded are stock share repurchases and dividends, on the assumption they too would also be stopped during the pandemic. It also does not show any principal payments on debt as their debt payments were interest only.
In the second column of the analysis, I calculated their cash breakeven revenues. I assumed:
Their mix of food and beverage and amusement stayed the same along with their respective cost percentages.
Other costs stayed the same with the exception of labor that I raised to 26% to account for added cleaning and other labor expenses due to Covid-19 and also since labor cost percentages tend to go up as revenues decline, as much of management and supervisory labor can't be reduced.
As the second column shows, for Dave & Buster's to breakeven cash wise during the pandemic, they would need to achieve 70% of their previous fiscal year's revenues.
It is important to note that D&B doesn't have any principal repayment burden on their debt of $648.3 million, or $4.7 million per store. This is unlike most independent and small chain LBEs that have substantial annual principal repayment obligations. Also, as a large company, D&B has access to lower interest rates for borrowings than most independents and small chains.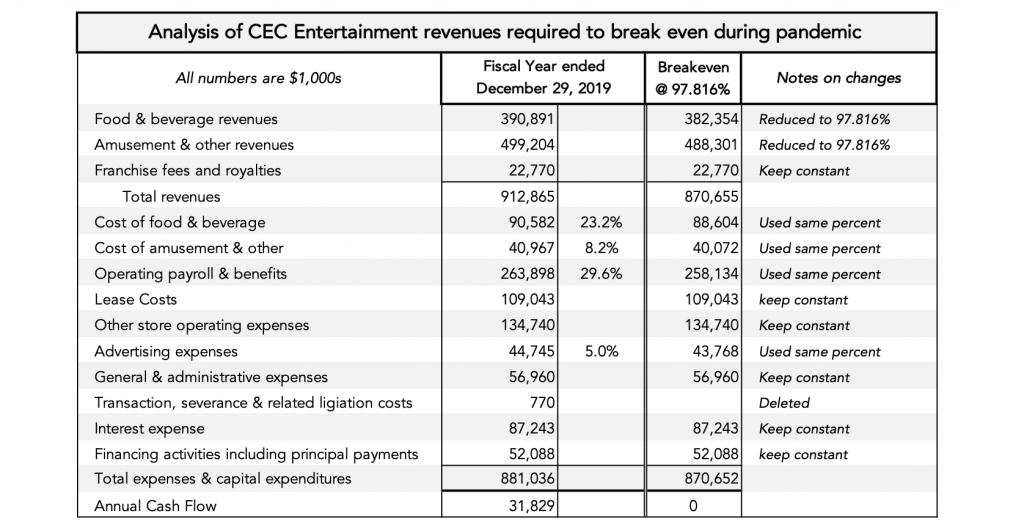 Here's the same analysis for CEC Entertainment that operates 515 Chuck E. Cheese's, 40 Peter Piper Pizzas and has 186 franchised units, for a total of 741 units.
The only differences from the D&B analysis is principal payments are included and I kept the payroll percentage the same since the cash breakeven is so close to the previous fiscal year's revenues. CEC doesn't have much breathing room as their required revenue for cash breakeven is at 97% of previous revenues. One reason for this is that their debt of $922 million, or $1,661,000 per operated store, is a higher percent of store development costs than for D&B. In fact, CEC's debt per store is slightly higher than their average operated store revenues ($1,617K) whereas D&B's debt per store is only 45% of average store revenues of $10,500K. In other words, CEC is leveraged much higher, their debt burden per store compared to its costs and its revenues are much higher in proportion than for D&B.
Several other things aren't factored in the analyses. Since both chains had to close down during the lockdown, they incurred substantial losses when closed and there will be considerable costs to modify the facilities to meet Covid-19 requirements and for rehiring and training staff…