YouGov research: impact of consumers' Covid-19 fears on OOH activities
Peoples' Covid-19 fears and its impact on out-of-home entertainment & dining activities
Following is some very recent polling data that I sorted through from multiple sources on the current state of consumers' fears that they or a member of their family will catch coronavirus and the impact of this fear on their willingness to visit out-of-home entertainment and restaurants. I've cited data from a number of polls to illustrate the consistency of what they all are finding, including trends.
YouGov, an international research and analytics company, has been constantly running surveys to track peoples' Covid-19 fears and their behaviors. Here is their most recent data on peoples' Covid-19 worries as of June 1st and 2nd.

Basically, their survey shows that half of people are scared and worried about Covid-19.
A May 25-28 Washington Post/ABC News poll found that 42% of Americans said they personally know someone who has been diagnosed with coronavirus, a sharp increase from 11% who said this in March. The poll found 63% of Americans overall continue to worry that they or a family member will catch the coronavirus. That was only slightly down from the 69% the poll found two months earlier.
An Engine Insights June 5-7 poll found that 7 in 10 adults are concerned about contracting coronavirus (35% were very concerned) and over three-quarters (78%) are concerned that a member of their family will contract the virus (46% were very concerned).
Findings from a June 10th survey by Datassential found that 47% of people are "very worried" about coronavirus.
A very recent June 10-11 ABC News/Ipsos poll found consistent results, with 69% somewhat or very concerned that they themselves or someone they know will be infected with the coronavirus.

Data from a May 29-June 1 CBS News Poll shows not only a 69% concern for all adults, but also a breakdown by age and political party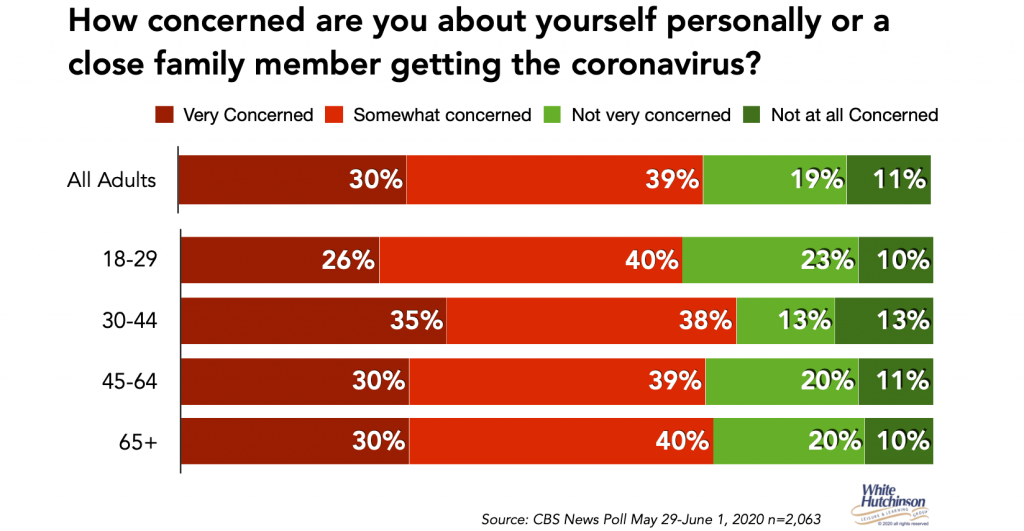 It is surprising how little variation there is in the level of concern by age. The 18-29 age cohort shows the least concern.
The CBS News poll shows a very pronounced partisan variation of fear by political party, with Democrats being highly concerned, Independents less concerned and Republicans the least concerned.