Leeds: green space centrepiece of city redevelopment granted approval
Detailed proposals for Aire Park, a landmark for Leeds, and the largest new city centre green space in the UK, have been officially approved by Leeds City Council's plans panel.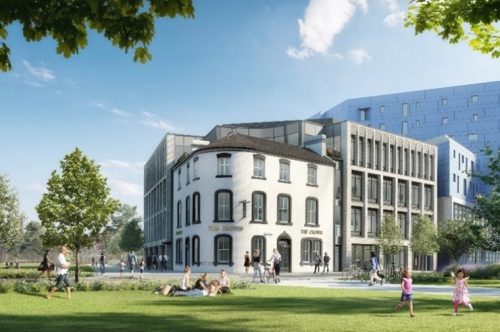 Developer Vastint UK put forward the plans as part of its major redevelopment for the former Tetley Brewery site.
The park will feature a series of connected open spaces, allowing it to be used year-round, day and evening and for a variety of purposes. Vastint UK will work with the council to create and manage the park and construction is expected to start early in 2021.
The news follows the announcement that £8.6m from the Government's Getting Building Fund will be committed to deliver additional park space and infrastructure around the development, as part of West Yorkshire Combined Authority's mission to boost economic growth and aid recovery from the pandemic.
Aire Park will incorporate the following features:
The Tetley Triangle
A public event space suitable for concerts, markets and outdoor cinema, which will be approximately half the size of Millennium Square, animated by surrounding shops, cafés, homes and offices.
It will be bounded by the Tetley building and the Grade II listed Salem Chapel. Planning is expected in the coming weeks for 28,000 sq m of office space to complete the Tetley Triangle, as a boost to the economic potential of the South Bank district.
Theatre Gardens
An ornamental and sensory garden for quiet enjoyment, connecting the park to the River Aire with pedestrian pathways.
Central Park
A large, green park space between The Tetley and Crown Point Road including play and/or exercise areas, a water feature or sculpture, grassed areas and significant parkland. A path will connect the park to the residential area.
The Green
A grassed and stepped amphitheatre and seating area for informal performance, a similar size to Merrion Gardens.
The Hunslet Stray
A six-metre wide communal pathway connecting pedestrians and cyclists from north to south from Leeds Bridge.
The park will also include an avenue of cherry trees, a meadow path and a one kilometre exercise route.
Leeds City Council will take a 250-year lease of the completed park from Vastint UK to manage, operate and maintain the space, with financial and governance support from Vastint UK…