Mulan release on Disney+ marks the end of business as usual for movies
It used to be the kiss of death for any movie – the dreaded "straight to video" (and, later, DVD or digital) tag.
But the release on Friday of Mulan on Disney+ may mark the moment the straight-to-digital strategy went from $2 shop to upmarket boutique, and not just because it will cost you $34.99 (on top of your $8.99 monthly subscription) to watch at home.
The straight-to release has had a reputational makeover in the past few years, thanks to big-name directors making movies for Netflix et al. But what began as a response to the changing art-house market has now morphed, thanks to the pandemic, into a strategy for even the biggest end of town.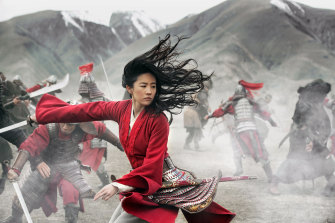 Universal led the way, releasing its animated family film Trolls World Tour in US cinemas and on premium video on demand (PVOD) on the same day in April (in Australia it will have a traditional cinema release when it premieres on September 17).
It took more than $US100 million via PVOD, but the real success of the experiment came later, when the studio struck a deal with AMC, the largest cinema chain in the US, to reduce theatrical windows – the period when a film is only available in cinemas – from 90 days to 17. (In return, AMC will get a 20 per cent cut of PVOD revenues.)
Mulan is a big step up. Directed by New Zealander Niki Caro of Whale Rider fame and beautifully shot by Australian Mandy Walker (Hidden Figures, Australia), Disney's $US200 million blockbuster is a stunning piece of work that deserves to be seen on the big screen.
That was Disney's intention, and even as the pandemic swept the world it held fast to the planned release date of March 27 until it became clear North America and China – each accounting for roughly a quarter of global box office – would not be open. It rescheduled to July, then August, but as uncertainty remained it finally opted to release the film on its new digital streaming platform.
The Mulan release strategy has three aims: to bring revenue for the film itself, to drive new subscriptions to Disney+, and to persuade existing subscribers to stay.
Circumstances forced Disney's hand, but they also gave it licence to experiment. As a senior executive at another distributor notes: "They've got a new shiny toy and this is a chance to play with it. If it fails they can blame COVID, but if it works they look like geniuses."
Hoyts chief executive officer Damian Keogh says he is "disappointed" Disney has decided to bypass cinemas, noting that exhibitors had been promoting Mulan on their screens since January. He's not even convinced it makes sense financially. "There's no doubt in my mind that Disney would have made significantly more in this market with a theatrical release, even with the COVID restrictions."…
Main image: empty cinema photo by Felix Mooneeram on Unsplash