Where did Disney and Live Nation's missing $10 billion go?
In both economic and pandemic terms, we are in a relatively quiet period compared to the first half of the year. COVID-19 is at much lower levels in most countries and there are multiple sectors, such as housing and auto, that are reporting booms. These positive indicators will likely be both a pre-recession bounce and the lull before COVID-19's second peak.
However, there is a crucial subtext here, which is that one sector's loss is often another's gain. COVID-19 saw winners and losers, as any post-recession recovery is defined by 'scarring' where some companies and formats build where others have failed. For entertainment companies that lost revenue during the first half of the year, the question is whether they will regain that revenue or whether their lockdown legacy will be a long-term contraction.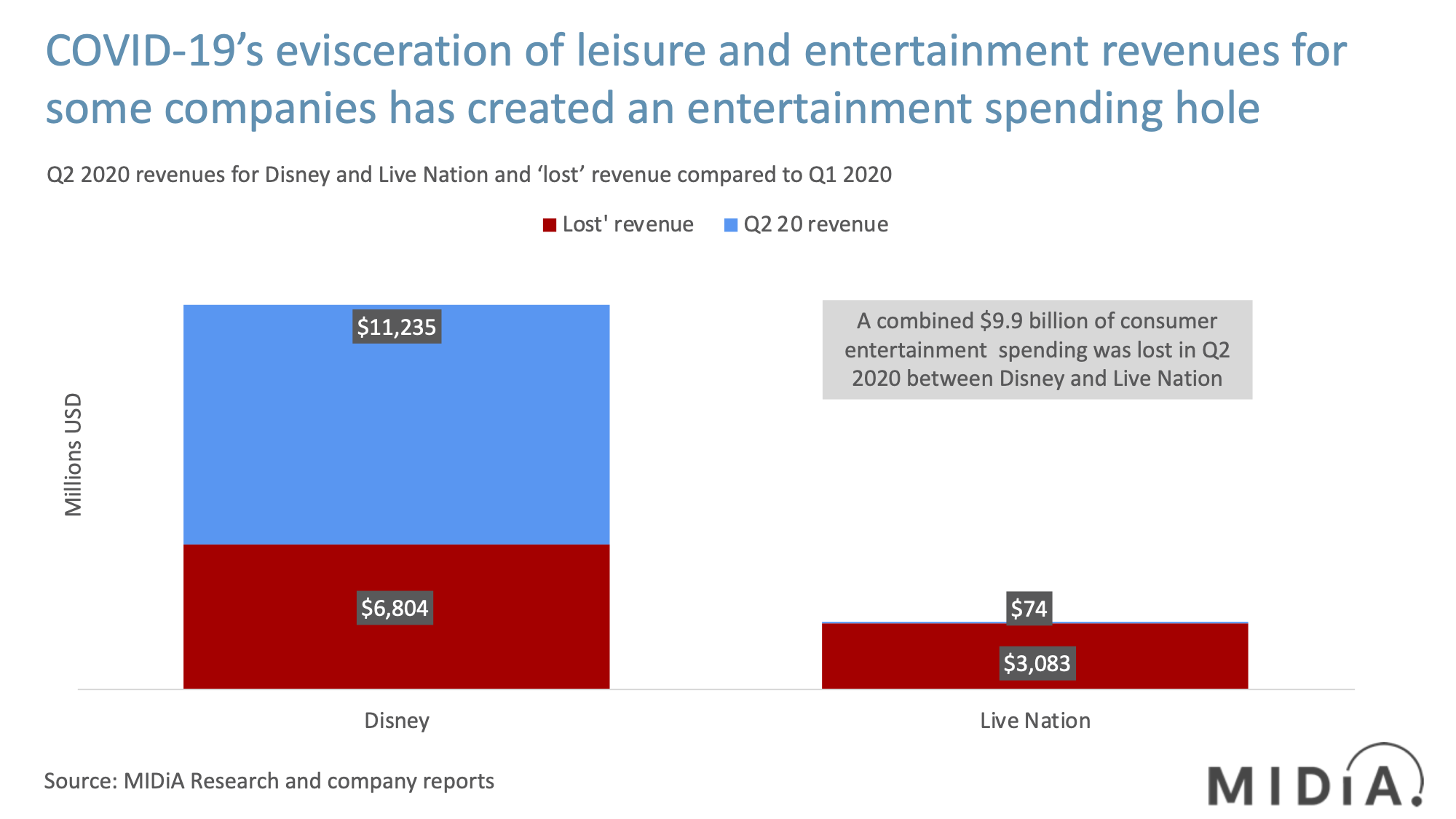 Live Nation and Disney (because of its theme parks) were two of COVID-19's biggest and highest-profile entertainment company casualties. Live Nation's revenues fell from $3.2 billion in Q2 2019 to $74 million in Q2 2020, a 98% decline. Disney's fall was less in relative terms (-38%) due to having a diversified business but more than double Live Nation's loss in actual terms. Between them, Disney and Live Nation lost nearly $10 billion of revenue which can be bluntly equated with $10 billion of consumer entertainment spend that went unspent in Q2 2020. The big question is whether that spend remains dormant, waiting to be tapped when doors open again, or has it gone elsewhere – and if so, can it be won back.
The lockdown winners were companies that could trade on consumers being cooped at home: games, video, home shopping, video messaging etc. Some of these were stop-gaps that consumers turned to in order to fill the void; others represent long-term behaviour shifts. Here are some of the places consumers shifted their spend, and how it might impact recovery for entertainment businesses…